ASIA
Sunandan Tiwari is the first to admit that his upbringing was atypical. He was born in New Dehli but grew up in the southern Indian city of Pondicherry – or "Pondy" as he affectionately calls it. It was here, in this small coastal city, that Sunandan spent his formative years, "right from class 1 all the way to University".
"Pondy is small, a French colony, and when I went there in the late 70s it was still a sleepy town by the sea. It has changed a lot since then, but for me it was perfect growing up by the sea" said Sunandan.
"Growing up in Pondy, you were surrounded by nature. The city is bordered by the sea on one side and the forest on the other, it was natural for me and my friends to do activities that brought us close to nature."
The beach front at Pondicherry, southern India. Sunandan Tiwari spent his formative years here and loved the sea. Photo credit: Sanyam Bahga/CC by 2.0
Sunandan's obvious affection for the outdoors, developed into a sustained interest in the environment in a large part due to a war-reporter-turned-teacher.
"We had a teacher, a Frenchman, who used to be a war reporter – he had covered Vietnam… and he had a totally different vision of education," explained Sunandan.
"He taught us 'free progress'… what they tried to do was get away from conventional educations, and we were instead taken for example to work on a dairy farm, with poultry and did a lot of work with nature… It was this upbringing that made me realise where my heart lay."
Sunandan went on to study for a Master's degree in Ecology from Salim Ali School of Ecology at Pondicherry University. So, how did an Ecology graduate with a passion for nature and the outdoors come to work on urban climate change resilience and become deputy director of ICLEI South Asia?
"It's true I am not really a city person!" said Sunandan, "Even though I do work on cities. I got the opportunity to work with villages in the Himalayas and then moved to work in Delhi with ICLEI. I like to work in a variety of ecosystems."
In many ways, Sunandan says, cities are much like other complex ecosystems: they still rely on natural resources, are vulnerable to climate shocks and to manage them requires a good understanding of the interactions between different processes.
"Plus my work allows me to travel, so I am not in the city all of the time!" He added.
"Being in the city is also vital for my current work, which is working with city governments to build climate resilience" said Sunandan, "it is very important to experience first hand the challenges that people face in order to understand how to build resilience."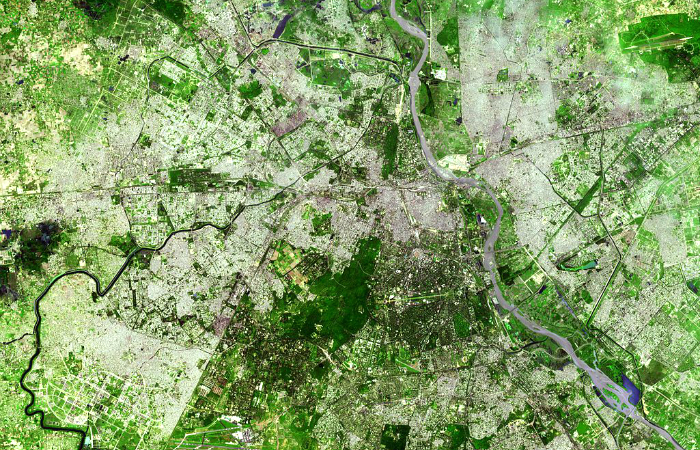 Satellite view of Delhi, India where urban forests are being developed to help build resilience to flooding and extreme heat. Image credit: NASA, Public Domain. 
Sunandan has applied his knowledge of ecology and development to a wide range of sectors including, water resource management, sanitation, forestry, renewable energy, environmental services and of course, climate change adaptation. So what links these areas for him and how is his work transferable?
"It is the people who are important," Sunandan replies, "In urban governance for example you need to connect to the people who interact with the resources and the environment. This may sound obvious but people think of climate change resilience as a technical issue, when for me, it is more of an issue of community and culture".
For Sunandan the skills of the climate resilience practitioner are as much about community engagement and communication as mapping and climate science.
"The biggest challenge for urban climate resilience is to change people's mindset. How do you get people to realise that climate change is important to their every day lives and that it is not just an issue to be dealt with by somebody else? That is a big challenge."
And how do we achieve this? Well, Sunandan feels that we are currently simply not doing enough. He argues that the idea that resilience planning has to be worked out in advance and then applied is holding urban resilience up "What we need is for people to just do more" he said "making mistakes is normal, it's how you learn".
But he also sees hope in the action that is being taken "local governments are taking action in India, it's not fast enough, but it is happening". However, despite seeing action happening already, he feels that many stakeholders, including the private sector, do not yet understand the benefit of building climate resilience "we need to work hard to spell out why it really matters to them".
In order to convince people of the importance of climate resilience, Sunandan feels that practitioners need to stop preaching to the converted. Recalling one occasion when he was speaking about climate resilience to a room full of engineers ("as you know they are a bunch who can be pretty set in their ways") Sunandan was confronted by one person at the morning coffee break "he walked in and told me, I don't know why I'm even here, I'm just here because my boss told me to be". But by the end of the day his view had changed considerably "he left saying, 'I never realised that climate change has got something to do with my job, I work in the electrical department, I need to think about climate change.' That reaction was very gratifying."
It also goes to show how valuable it is for climate practitioners to communicate as widely as possible. "Resilience building is not a quick-fix solution" Sunandan says as a parting thought "it is a continual process, we are learning all the time, but we must keep focussing on the process. Only by getting the process right can we ensure that resilience building protects the poorest, and that it works as part of the fabric of the city."
---
The writing that changed me: Getting to Maybe: How the world is changed by Frances Westley, Michael Quinn Patton and Brenda Zimmerman
In keeping with Sunandan's mantra of taking action rather than over-procrastinating, he recommends a book that provides guidance about how to overcome the challenges that prevent us from making the first steps to change the world.
The book starts with the premise that many people's natural inclination to solve problems is hampered by "the fear that we are so insignificant in the big scheme of things that nothing we can do will actually help feed the world's hungry, fix the damage of a Hurricane Katrina or even get a healthy lunch program up and running in the local school." It shows how to take steps to take action and overcome this fear.
The front cover reads: "This book is for those who are not happy with the way things are and would like to make a difference… this is a book about making the impossible happen."
---