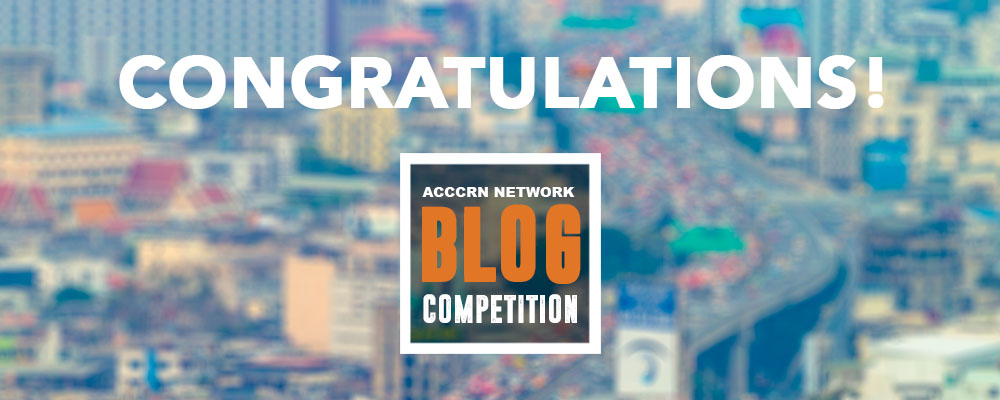 Since the middle of May, we've been sifting through the many impressive submissions for the ACCCRN Blog Competition. As you may recall, we encouraged ACCCRN members, practitioners, and bloggers who are based in Asia, and who write about urban climate change resilience, to submit their blogs to our competition. The winners are eligible to visit an ACCCRN city in Asia, and their writing will be published on the Thomson Reuters Foundation and ACCCRN Network web sites.
Laurie Goering, Climate Editor from the Thomson Reuters Foundation, and Denia Aulia Syam, ACCCRN Network Regional Manager, reviewed each submission and selected the ACCCRN Blog Competition Winner.
On the 1st July to 12th July, ACCCRN members voted for three shortlisted blogs for the People's Choice Winner.
Here are the results:
The Winner of the 2016 ACCCRN Blog Competition is Hari Krishna Nibanupudi, a Disaster Resilience and Climate Change Specialist at Safe Citizen International, Hyderabad, India, with a blog entitled Resilience in Dignity and Self Worth. He wrote about the absence of an overarching international legal framework for the protections of rights and dignity of people affected by climate extremes in India.
The People's Choice Winner of the 2016 ACCCRN Blog Competition is Srishti Singh, a Coordinator of the Global Resilience Partnership Project at Mahila Housing SEWA Trust, Ahmedabad, India, with a blog entitled Introducing "vulnerability" to the vulnerable populations: the stepping-stone to community based adaptation. She wrote about increasing awareness in the community about climate-induced vulnerability.
The Winner and People's Choice Winner will visit one of ACCCRN cities in Asia.
As runners up to these winners, we have Tasfia Tasnim from Bangladesh and Ratna Kusumaningrum from Indonesia, who were the other finalists of the 2016 ACCCRN Blog Competition. They will receive prizes from the ACCCRN Network and their blogs will also be posted on Thomson Reuters Foundation and ACCCRN Network web sites.
Thanks to all who sent in their submissions. We were truly astonished by the tremendous number of great ideas on urban climate change resilience that were on display in this competition.